The 5th Philippine International Motor Show is just a few days away and will host a variety of cars and auto-related presentations at the World Trade Center in Pasay City.
September 18 will be the first day of PIMS 2014 and will begin with Media Presentations that will start at 11:00am up to 7:00pm at the Main Lobby. It will be 30-minute presentations from companies Kia, CMANC (Daewoo), Honda, BMW, Mitsubishi, Lexus, Toyota, BAIC, Volkswagen, Peugeot, Suzuki, JMC, Mercedes-Benz, Nissan, Isuzu, and Mazda. The Main Lobby will also hold the Iconic Automotive Exhibit, Automotive Designer's Row and the Scale Model and Die Cast Display. A DJ show sponsored by Pioneer will take place as well as a Kiddie Treasure Hunt which will happen from 1pm-5pm, September 20-21, 2014.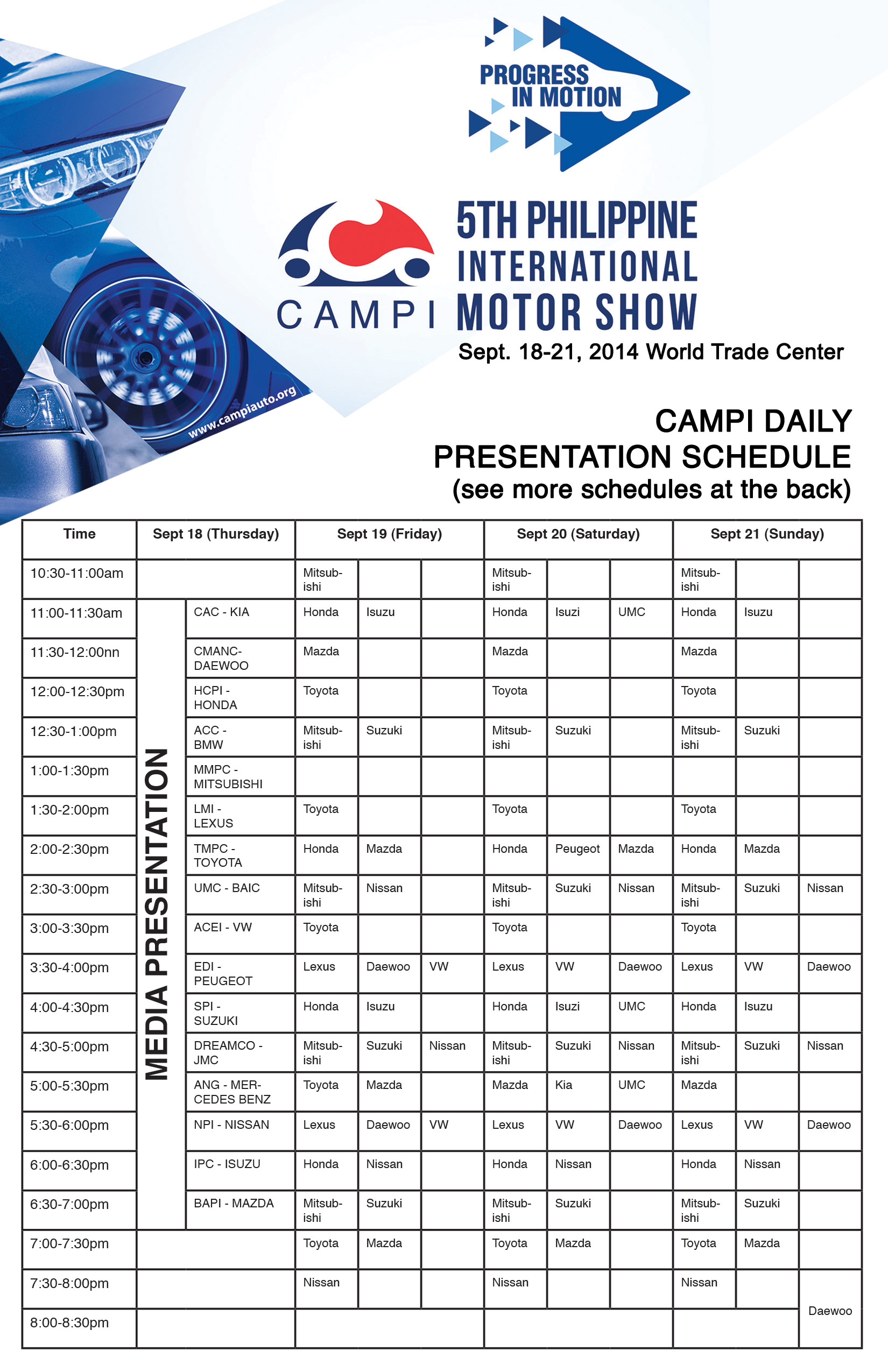 The Opening of the After Sales, Technology Pavilion and Launching of the Anti-Counterfeit Campaign will be held at the East Hall Tent Area on September 19, 2014 which will run from 10:00am to 11:00am. At 1:30pm-2:30pm, the Parts & Service Committee will hold The Genuine Factor. Toyota will then explain Hybrid Technology which will run from 2:00pm-2:30pm while BMW will expound on different kinds of airbags from 2:30pm-3:00pm. Peugeot will present Advance Diesel Technologies after BMW from 3:00pm-3:30 pm while CMANC (Daewoo) will showcase Innovation in Lubricants starting at 3:30pm and end at 4:00pm. Automobile Association of the Philippines will then host Road Safety: The Driver's Rights; Different Types of Licenses that is slated to begin at 4:00pm and end at 5:00pm.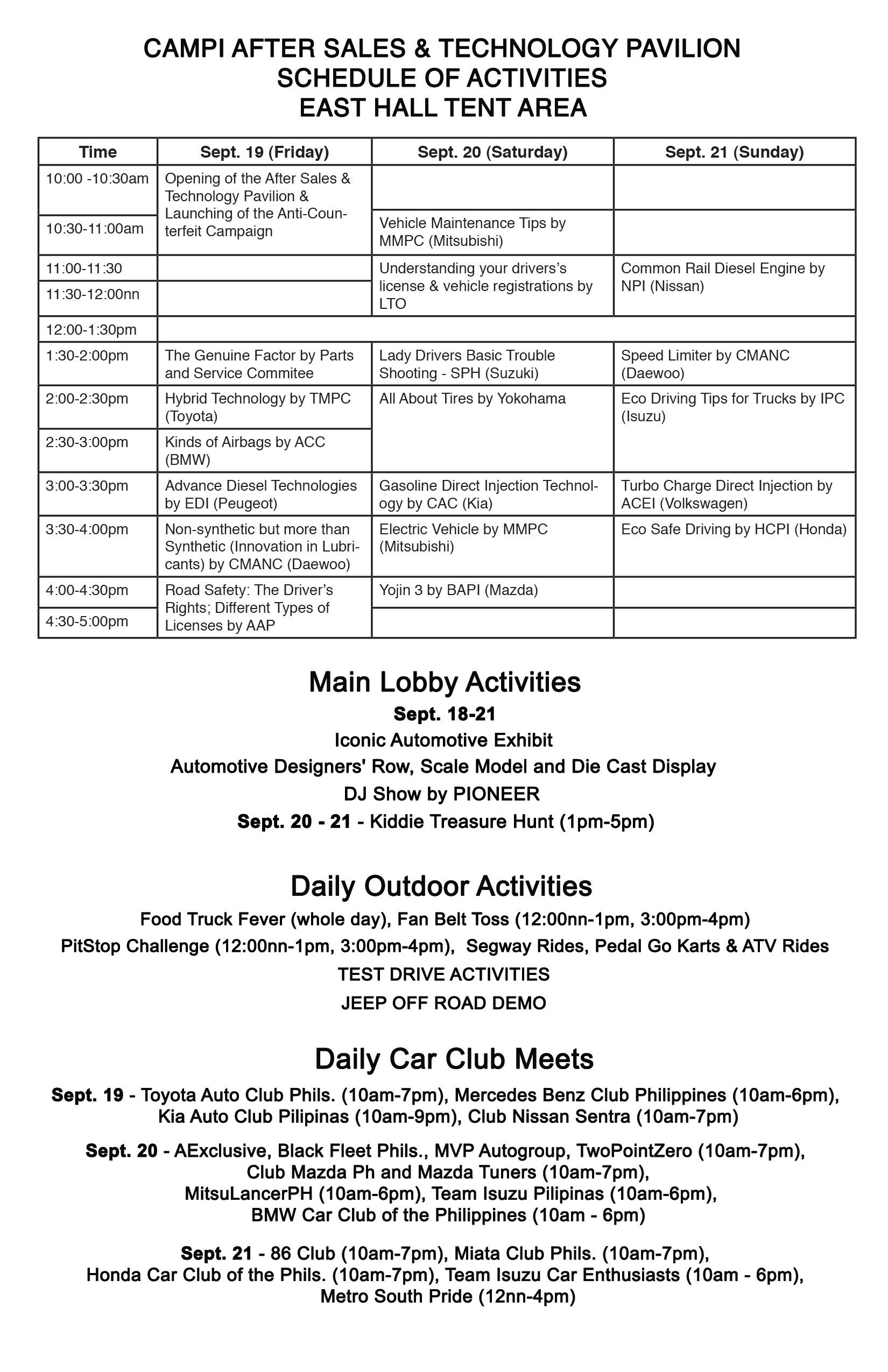 On September 20, Mitsubishi will give tips on maintaining vehicles from 10:30am-11:00am, after which, LTO will explain on how to better understand the driver's license and vehicle registrations from 11:00am to 12:00pm. From 1:30pm to 2:00pm, Suzuki will teach lady drivers a few basic trouble shooting methods. After that, Yokohama will have a talk about tires from 2:00pm to 3:00pm. Kia will then present wGasoline Direct Injection Technology starting at 3:00pm and end 3:30pm. The last two Pavilion events will be held by Mitsubishi and Mazda; with the former explaining Electric Vehicles from 3:30pm-4:00pm and the latter describing the Yojin 3 service at 4:00pm to 4:30pm.
The last day September 21, 2014 will be greeted by a demonstration from Nissan about Common Rail Diesel engines from 11:00pm-12:00pm. CMANC then will present the function of a speed limiter from 1:30pm-2:00pm. Afterwards, Isuzu shall provide Eco Driving Tips for Trucks from 2:00pm-3:00pm. Finishing off the Pavilion events will be the Turbo Charge Direct Injection display by Volkswagen at 3:00pm-3:30pm and the Eco Safe Driving activity by Hyundai from 3:30pm-4:00pm.
The event will also hold daily outdoor activities such as a Fan Belt Toss and Pit Stop Challenge. Both events will be held from 12:00pm-1pm and 3:00pm-4:00pm. Rides will also be offered on Segways, Pedal Go Karts and ATVs. Test drive activities will also be present as well as a Jeep Off Road Demo.
Daily Car Club Meets are going to be held, giving each club a specific day when to gather.
On September 19, Toyota Auto Club Phils., Mercedes-Benz Club Philippines, Kia Auto Club Pilipinas and Club Nissan Sentra will have their meet. Toyota Auto Club and Club Nissan Sentra can get together from 10:00am-7:00pm, Mercedes-Benz Club Philippines from 10:00am-6:00pm while Kia Auto Club Pilipinas are scheduled from 10:00am-9:00pm. September 20 will get to see AExclusive, Black Fleet Philippines, MVP Autogroup, TwoPointZero, Club Mazda and Mazda Tuners that can assemble from 10:00am-7:00pm. MitsuLancerPH, Team Isuzu Pilipinas and BMW Car Club Philippines will also meet on this day and can congregate from 10:00am-6:00pm. September 21 will be flocked by members of the 86 Club, Miata Club Philippines, Honda Car Club of the Philippines, Team Isuzu Car Enthusiasts and Metro South Pride. Both the 86 Club and Miata Club Philippines can gather from 10:00am-7:00pm while the Honda Car Club Philippines and Team Isuzu Car Enthusiasts can huddle from 10:00am-6:00pm. Metro South Pride will be present at the event from 12:00pm-4:00pm.
WIN TICKETS TO THE SHOW